wedding timelines day of

2:15pm Bride (if applicable) departs for the ceremony
2:00pm Groom (if applicable) arrives for ceremony, guests start to arrive

Also, now's a great time to have some music playing, to add to the ambiance and also indicate that the ceremony start time is indeed approaching.
Once you're fully dressed and ready, the photographer will focus on capturing some beautiful portrait and detail shots at pre-scouted locations around your venue.

Groom, best man and ushers should have arrived at the ceremony by now, welcome guests. Remember the bride's family sit on the left and the groom's on the right.
The first dance. This is a big moment for you, enjoy it. No doubt, you'll have poured over your first dance song for months. If you're nervous, ask the DJ or band to invite friends and family on to the dance floor halfway through.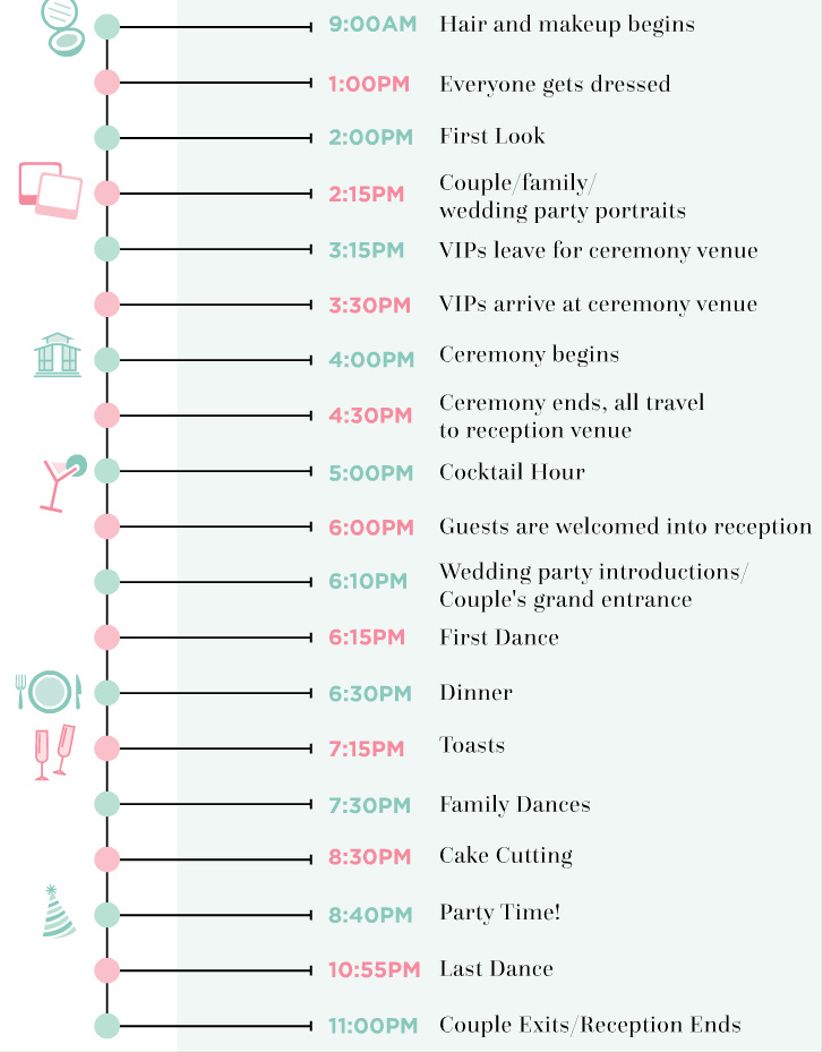 Wedding planners and venue event managers are usually the go-to sources to assist you in creating your "official" wedding agenda. They'll have a good idea of how to plan out the day based on their experience, and know how to adjust your vision to fit the realities of time. You'll also want to speak with your other vendors to find out how long they'll need for set-up and prep so that you can schedule them accordingly and provide them with enough time to complete their tasks.
Will you be getting ready at your ceremony location or somewhere else (like a hotel with a room block reserved for you and your guests)?
Are your ceremony and reception in separate locations? If so, you'll have to factor travel time into your wedding timeline.
Will you be providing transportation for your wedding party members and/or guests? If so, this can make travel a bit smoother and quicker.
Are you planning on having a "first look" and doing photos before the ceremony? Or would you rather wait until cocktail hour to do couple and group portraits?
How long will your ceremony be? This will require a discussion with your officiant.
Will your cocktail hour take place between the ceremony and reception or before the ceremony?
Will you have a receiving line?
How many toasts or special dances will you have?
Does your reception venue have a curfew, meaning you'll have to end the reception at a specific time? Your wedding reception timeline will be tighter if you have to end the party at a predetermined time.
Are you doing a first dance or other ceremonial dances at your reception?
How much time is included in your vendors' contracts? How long will your photographers (DJ/band, videographer, etc.) be present at your wedding?
Are you hosting an after-party or parties?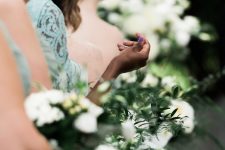 Here's a sample of a wedding timeline with a two-hour gap between the ceremony and reception:
WHO IS IN CHARGE OF WEDDING BREAKDOWN?
Resources:
http://www.brides.com/story/reception-timeline-tips
http://www.weddingideasmag.com/wedding-day-schedule/
http://www.weddingwire.com/wedding-ideas/wedding-timeline
http://apracticalwedding.com/calculate-wedding-timeline/
http://projectbritain.com/kings.htm