How to Introduce Yourself in an Email to a Client
An introduction email to a client plays a vital role in determining how successful your working relationship will be. A great introduction sets the right tone. It makes the client feel reassured that your organization is more than capable of handling their needs.
A good introduction email to a client is composed of four components. First, create a subject line that depicts the key message you want to share in the email. For example, you can use as an email subject line something like "[your company] + [client's company]" or "[your name] from [your company]: quick intro".
Next, we have the greeting line and not just any greeting but a personalized one. Your client needs to feel valued, and one of the easiest ways of showing that is by personalizing the relationship.
So, don't just open your emails with a "Hey," "Hello," or "Hi," then jump straight to the primary subject. Mention the client's first name. There are no fancy psychological reasons you should do this. It's just the proper and polite way to start an email.
The little personalization techniques like mentioning the client name, writing a custom message, and providing personalized offers compound to increase open rates and email engagements.
The second part covers the reason for writing your email, i.e., introducing yourself to the client. You can mention your organization at this point. It's also the perfect place to mention a professional mutual connection if there's one.
In addition to the basic introduction, you should also mention a few details regarding the client. More specifically, their pain points or goals. That should lead you nicely to the third section of a client intro email where you offer a solution.
Check out the email sequence that introduces a new relationship manager to clients. You will notice that the first one is not exactly an introduction email as the sender already has a working relationship with the reader. The second one, however, is an introduction email as the sender has had no prior correspondence with the recipient: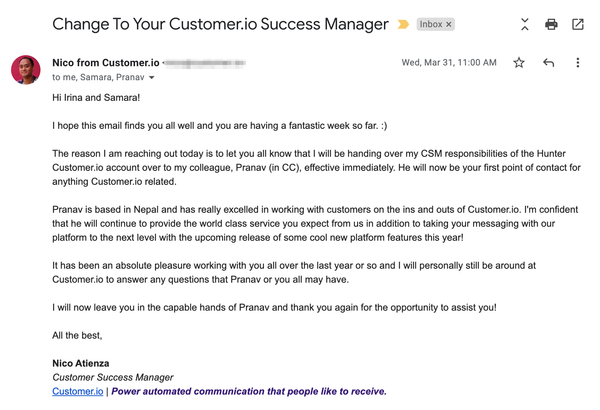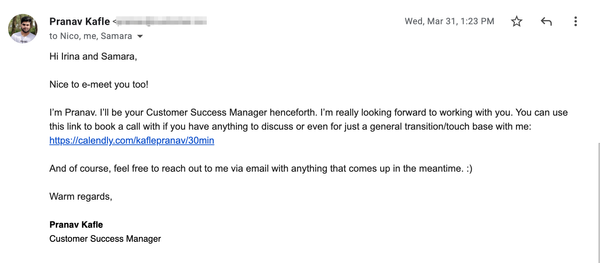 Keep in mind that the best email introduction is always brief. Modern professionals receive dozens of emails as it is, so you don't want to bore your clients with text-heavy emails. Keep it short and engaging.
How to introduce myself in an email
In the templates below, we demonstrate this structure in practice. But, before we go into the examples, there are two critical aspects you need to get right: the subject line and the email introduction phrases.
Focusing on these two critical aspects and getting the tone right ensures that you communicate your message effectively, says David F. Swink writing in Psychology Today. We've previously written about striking the right tone in an email if you want to dive deeper into the topic.
Self-introduction email subject line examples
It can be tempting to be informal in your introductory emails, but we'd recommend that you always remain professional. As Swink points out, there is a risk that the email subject line to introduce yourself that you choose could be misinterpreted or misunderstood. If you're introducing yourself to a client, we always recommend you take a formal approach.
Phrases for introduction
As the old saying goes, you only get one chance to make a first impression, so it's worth taking time to get this correct. The examples in this guide are for professional use, and as such, we've stayed away from personal approaches. If you want to learn more, check out our article on 100 best email opening lines.
Do I need to introduce myself in an email?
Before diving deeper, we need to answer one common question: do you need to introduce yourself in an email? The short answer is "yes", if the recipient is someone you haven't met before.
A polite and professional introduction email creates an almost instant connection. If written with the right tone of voice––that's both formal and personal––it can turbocharge relationships.
How to Introduce Yourself in an Email to Clients
When you're dealing with clients, you're really prospecting. You want to make sure existing clients feel comfortable with you and that prospective clients are intrigued. With emails to colleagues, you're reassuring them you'll be easy to work with. But when you think about how to introduce yourself in an email to clients, you should still be thinking about the company, product, and service first. With colleagues, you're the product!
Keep in mind that some companies already have a template for a new account manager introduction email to customer. They may vastly prefer that you use their new account manager introduction email to customer sample rather than trying to craft your own. Other companies may want you to look up a new account manager introduction email to customer sample and follow your own personal instincts.
I'm Mary and I'm going to be your new point-of-contact at XYZ Corp. I'm really excited to talk to you about some of the new deals and promotions we're working on. When is a good time to talk?
In high-value sales, you might want to connect with your supervisor regarding how to introduce yourself to a new client. You can also sell some kind of service or product introduction email to client email addresses as a way to introduce yourself. A self introduction email to existing clients doesn't have to include products and services but it should. A self introduction new account manager introduction email to customer should also be relatively short and sweet, compared to a self introduction letter to existing clients which may be in-depth and longer:
I'm Mark and I'm going to be taking over for Thomas as your point-of-contact at XYZ Corp. I've talked with Thomas extensively about your company and your needs, but I'd love to hear from you about any interests or concerns you have. Right now at XYZ Corp, we've got a variety of deals and promotions going on that I'd like to loop you into. I can also give you more information about our upcoming products and services.
As you can see, with an existing client you may want to reassure them that your services aren't going to be changing and that you're going to take care of them just as their other sales representative did.
Source:
https://hunter.io/blog/how-to-introduce-yourself-in-an-email/
https://www.flowrite.com/blog/how-to-introduce-yourself-in-an-email
https://terminus.com/how-to-introduce-yourself-in-an-email/